Hemophilia and the Holidays: When the Hospital Calls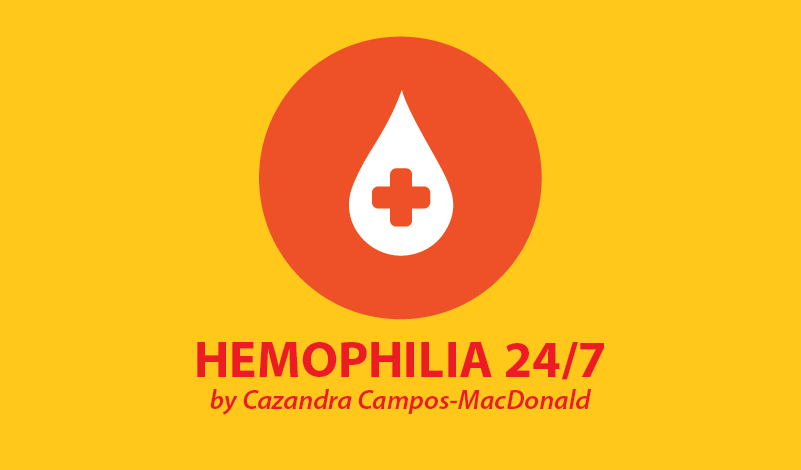 2013 was the year that my mighty warrior Caeleb was in the hospital more than he was at home. and Christmas was a holiday that was spent in the hospital. Instead of feeling sorry for the fact that my son was in the hospital unable to walk, I was determined to make the holiday special, not just for Caeleb, but for our family.
Caeleb's prolonged time in the hospital was the result of a severe knee bleed. His pain was unmanageable at home and the best place for him was in the hospital. I found a little artificial Christmas tree on sale along with a few strands of lights and took them to his room. The tree and the lights were just the beginning. Christmas and get-well cards were on the wall, along with gifts that Caeleb received while in the hospital. It looked as good as it possibly could.
When Christmas Eve came, Caeleb spiked a fever and slept. I just knew that my decorating and trying to make it "OK" that he was in the hospital was not going to matter. My husband Joe and our son Julian went to church that evening, and Joe returned for the night. Julian and I planned to return bright and early Christmas morning to bring gifts from Santa.
The next morning, we arrived with our loot in tow, Christmas cookies, and a small feast for lunch. Caeleb's fever had broken and he was doing well. We opened presents, laughed and ate, but the best part of the day was yet to come.
Joe and Julian managed to cover a wall to make a screen and we used a projector to watch movies all afternoon. The only difference was when the nurse and technician would come in throughout the day for infusions and vitals. I will admit that it was one of my favorite Christmas days to date.
What mattered was that my family was together. Caeleb was healing and we were together. We made the best of an otherwise yucky situation and enjoyed each other. Our extended family — the nurses, staff, and other patients — were all in the same boat. We spent Christmas in the hospital and we made it as enjoyable as we could.
Life is too short to live in despair. We experience grief from living with a bleeding disorder, loss at considering what a life may have looked like without an illness, and devastation from damaged joints and prolonged bleeds.
But through it all there is joy. You just have to look hard enough. Joy that we have products that help us live thriving lives with hemophilia, gratitude for bringing some amazing people into our lives that we may have never known if not for our bleeding disorder, and hope for the good things yet to come.
No matter where you are this holiday season, acknowledge the joy around you and find a way to be a part of it. Offer gratitude for the good things in your life. And most importantly, hold on to hope. If you think things could not get worse, hope tells us that the best may be yet to come.
***
Note: Hemophilia News Today is strictly a news and information website about the disease. It does not provide medical advice, diagnosis, or treatment. This content is not intended to be a substitute for professional medical advice, diagnosis, or treatment. Always seek the advice of your physician or another qualified health provider with any questions you may have regarding a medical condition. Never disregard professional medical advice or delay in seeking it because of something you have read on this website. The opinions expressed in this column are not those of Hemophilia News Today or its parent company, BioNews Services, and are intended to spark discussion about issues pertaining to hemophilia.