Hemophilia and Mornings: Going Through the Motions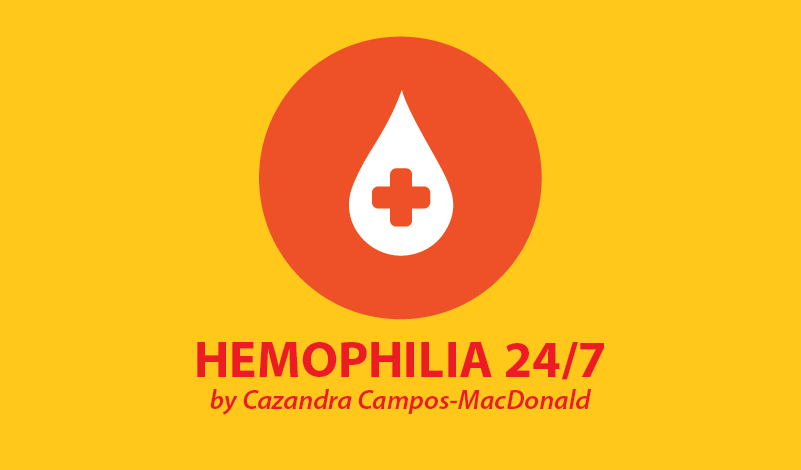 When you infuse through a port there are several steps to completing an infusion, as opposed to a peripheral stick. Having all the supplies together and prepared and opened in a certain order to maintain good, sterile technique helps make the process move along quickly. Especially when you are doing the infusing alone, but also when your morning schedule changes, infusing can be stressful.
During elementary, Caeleb's school began at 9 a.m., which made for a leisurely morning of preparation, breakfast, infusing and off to the bus with two cups of coffee already consumed. This year, he entered middle school with a start time of 8:15, meaning infusing must begin by 7 a.m. or the probability of missing the bus grows very high. Now, our alarm clocks go off no later than 6:30 a.m.  Let's just say I'm not getting in two cups of coffee before he heads to the bus anymore.
Some people have asked me why I think it is so important to infuse in the morning. Why not after school? Everyone must figure out the best time for their schedules, but if an infusion happens before school, my son has better coverage with his factor during the day. He has a much better chance of avoiding a bleed from an incident at school with a morning dose given, instead of waiting until after school, when a bleed already could have begun. And, with an inhibitor, mornings are just best for our family.
What I have realized over the beginning months of our new morning schedule is how routine infusing is in our home. It's like driving in your car, arriving at your destination, and not quite remembering how you got there. It is so ingrained into our lives — down to the movements of our hands — that it sometimes surprises me.
I am preparing medication and putting a needle into my son's chest like a robot! I still remember the first time I infused my oldest son, when he was a baby, through his port. It was terrifying. All of these years later, I can access a port and infuse without feeling. Honestly, it scares me. I don't like feeling numb to something that is so important in the life of my son. The routine becomes mundane and when we become inured, we can mess up. I don't want to get sloppy at accessing because one bad infusion can lead to an infection. But even the best sterile technique can lead to a port infection, and those who are sloppy with their infusions may never get an infection.
You must do what works for your family. Is it painful to get moving early to infuse before school? Yes! But I would rather sacrifice a little extra sleep to keep my son in good shape.
As always, if you aren't sure about timing with your infusions, talk to your Hemophilia Treatment Center. It will be able to help you make a plan that works.
***
Note: Hemophilia News Today is strictly a news and information website about the disease. It does not provide medical advice, diagnosis or treatment. This content is not intended to be a substitute for professional medical advice, diagnosis, or treatment. Always seek the advice of your physician or another qualified health provider with any questions you may have regarding a medical condition. Never disregard professional medical advice or delay in seeking it because of something you have read on this website. The opinions expressed in this column are not those of Hemophilia News Today or its parent company, BioNews Services, and are intended to spark discussion about issues pertaining to hemophilia.