No Such Thing as Routine Surgery: Port No. 7 Is Here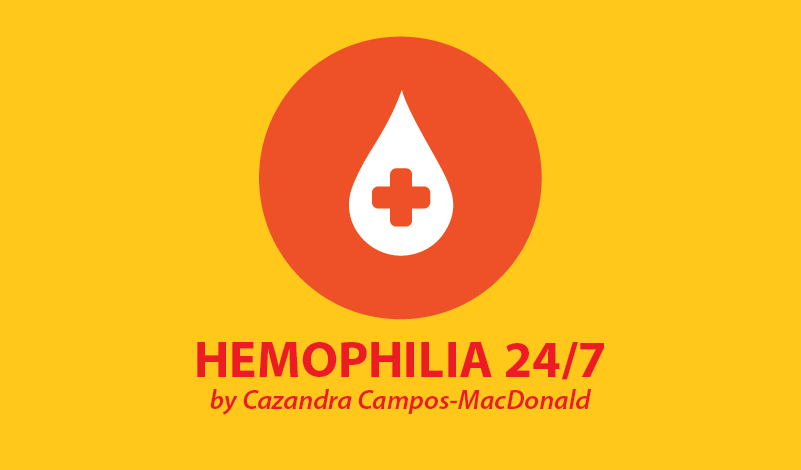 My mighty warrior Caeleb is only 11 and has had six ports. One cracked, another became infected, one literally worked its way out of his body. You get the picture.
But when you are infusing daily for immune tolerance, daily peripheral sticks are not always possible. For the past few months, he would complain of pain as I pushed his factor. It wasn't consistently a problem, but one day we went in for a dye study. No problems showed up, so we went about our daily routine as normal. Until recently.
One morning, we set up for our regular infusion, and during the entire process of pushing saline, factor, saline and heparin, he was almost in tears. I finished his infusion, sent him to school and called the HTC in the afternoon. They encouraged me to take him to the urgent care, so he would get a dye study done quickly. Otherwise, scheduling one and getting a prior authorization could take a few weeks. We did as they instructed, and he had a dye study the same day. As the doctor was pushing the dye, we saw a tiny bit of dye that may have been leaking, but it was hard to see, so Caeleb and I left the hospital.
Within five minutes of getting into the car and turning onto the main road, the HTC nurse called and said, "Turn around, Cazandra. Caeleb needs a new port and it can be done tomorrow."
I haven't dealt with hemophilia in a long time! Daily infusing is no big deal. It's just part of what we do. But surgery?! Tomorrow?! My mind started whirling with the things that needed to be done, and what I didn't realize was that my mighty warrior was starting to cry. We got back up to the room and when I looked at him, my heart fell. I hadn't seen him cry like that in a very long time. He was worried and scared. And then it dawned on me: We have had more than two years without bleeds or problems, and he had forgotten about all the months before, when he was in pain and out of school.
I looked at him, with his great, big, non-crocodile tears rolling down his face and told him, "You've got this, Caeleb. You need a port and we are going to get you fixed up like new." He hugged me, his sweet face filled with tears, as he got himself together and we began to be admitted to the hospital.
The surgery was supposed to take about 45 minutes; it took 3 hours. Caeleb was the last case of the day and my husband and I were completely wiped out. It's amazing how when you "hurry up and wait" you get emotionally and physically drained. Finally, the surgeon came out to let us know everything went well despite the line not wanting to go in the right place. The relief that came over me when I saw my warrior almost brought me to my knees.
You never get used to seeing your child go into surgery. There is no such thing as a routine surgery.
We welcomed Port No. 7 into the family; his name is Jim Bob.
***
Note: Hemophilia News Today is strictly a news and information website about the disease. It does not provide medical advice, diagnosis or treatment. This content is not intended to be a substitute for professional medical advice, diagnosis, or treatment. Always seek the advice of your physician or another qualified health provider with any questions you may have regarding a medical condition. Never disregard professional medical advice or delay in seeking it because of something you have read on this website. The opinions expressed in this column are not those of Hemophilia News Today or its parent company, BioNews Services, and are intended to spark discussion about issues pertaining to hemophilia.