A Month's Supply and Feeling Lost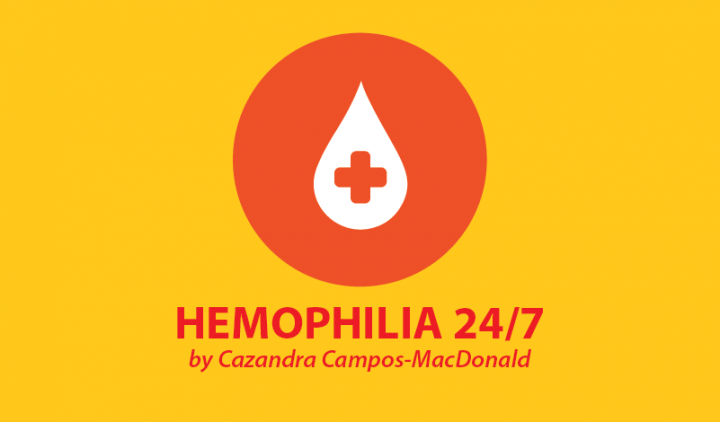 I couldn't believe Caeleb was about to get his first dose of Hemlibra (emicizumab-kxwh). I have been following several people whose children participated in the Hemlibra study (NCT02622321) before the Food and Drug Administration approved the therapy, and I saw how it changed their lives. After it was approved, I saw people flocking to the treatment, ready to get on board because their inhibitors were controlling their lives. I get it. But we were finally in a good place and not in a rush to start a new therapy. Everything was OK.
My husband Joe and I were with Caeleb for the first dose. Our son was nervous, but after talking to him and helping him calm down, my husband gave the first injection. We watched and waited, and the only reaction Caeleb had was at the site of the injection, which was normal. Within a couple of hours, you couldn't even see where the needle stick had been. We spent the rest of the day near the hospital, just in case. I'm not sure what we were expecting, but we were being overly cautious. Nothing happened.
The next day, Caeleb went to school without an infusion. The day after that, the same thing. I kept waiting for something to happen, but it never did. "This must be how people without a chronic illness function," I thought. You get up, have breakfast, get ready for school, and walk to the bus stop. No needles, no sterile technique, no mixing bottles of factor — but I am lost.
When I gathered the supplies for the remainder of the month, I put away my big bucket filled with gloves, flushes, heparin, gauze, and syringes, and I replaced it with a small, plastic container. I was now staring at a month's worth of supplies in a container that can hold a portion of leftover meatloaf. I am still dumbstruck when I look at the supplies on the baker's rack in my dining room. It feels like a dream.
I know I should be shouting for joy at the new way of life that is available for Caeleb and our family, but in a crazy way, it feels like there is a loss. Don't get me wrong, I don't enjoy accessing his port daily, but when you have been "on alert" for over 21 years, raising sons with hemophilia, to now have some respite from the daily grind of caring for a port and monitoring a large inventory of factor and supplies — it's almost as if you don't know what to do.
As a mom who is busy with traveling, going to school, and keeping up with the goings-on of my home, if I have an afternoon free to do whatever I please, it's as if my mind races and races, thinking about what to do. By the time I decide, everyone is home and ready to eat dinner.
I want to take this new freedom to another level and make the most of the time we have lost because of hemophilia!
It sounds good and it should be easy, but it will be a journey in itself.
***
Note: Hemophilia News Today is strictly a news and information website about the disease. It does not provide medical advice, diagnosis, or treatment. This content is not intended to be a substitute for professional medical advice, diagnosis, or treatment. Always seek the advice of your physician or another qualified health provider with any questions you may have regarding a medical condition. Never disregard professional medical advice or delay in seeking it because of something you have read on this website. The opinions expressed in this column are not those of Hemophilia News Today or its parent company, BioNews Services, and are intended to spark discussion about issues pertaining to hemophilia.