What Does Hemophilia Look Like?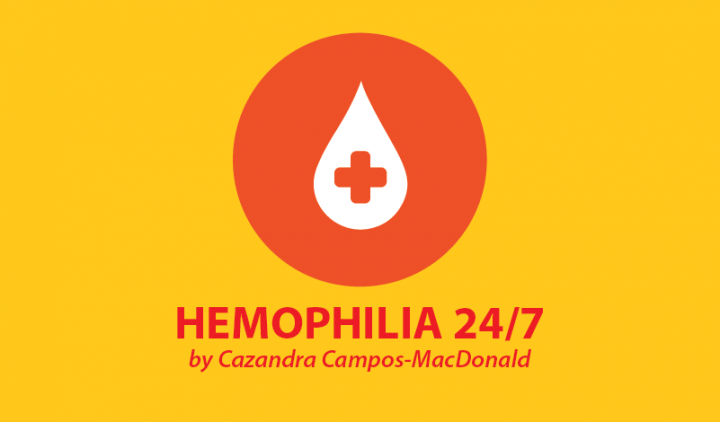 What does an illness look like? Sometimes a bald head, pale skin, or a mobility device are outward signs that someone has an illness.
People would never know my sons have hemophilia by looking at them today.
My oldest son, Julian, is 24. He lives on his own, pays his own bills, and is doing a fantastic job as an adult. He infuses on demand, much to my dismay. I would prefer he infused twice a week per his doctor's orders, but his treatment protocol works for his lifestyle.
He stands tall, works as a barista, and attends school. The only time hemophilia affects him is when he has an active bleed that causes him to be off his feet with an ice pack on the affected joint. He looks like any other young man hustling to make a living.
My youngest son, Caeleb, is 14. A freshman in high school, Caeleb is 5 feet, 11 inches tall and walks with a limp. While most people when climbing stairs place one foot on a single step, and the other foot on the next step, Caeleb is unable to do this simple movement due to joint damage in his right knee and ankle. Climbing the steps on a school bus also is a challenge.
If someone did not know about Caeleb's bleeding disorder, they might never notice the irregularity in his gait. He looks like any other goofy teenage boy trying to fit in with his peers.
When hemophilia takes control, life is different. Caeleb is often confined to bed with ice packs on the affected joints. He wears knee and ankle compression sleeves to help control joint swelling, and when he is on pain medication for joint inflammation, he is unable to participate in school. When his pain is extreme, he relies on a cane to help him get from one place to the next.
Hemophilia can look as "normal" as any person walking down the street who is not affected by any type of illness. However, it can also look painful when you see a person with hemophilia relying on a mobility device to get from one place to another and grimacing in pain caused by the aftermath of a bleed. The arthritis and joint damage last a lifetime.
Sometimes it is difficult for people to understand what a rare disorder does to a body when a person looks as normal as the next. Instead of judging and making assumptions as to why someone is acting a certain way or exhibiting certain behaviors, let us try to be more compassionate. We all have struggles. Everyone is battling something that we may never understand.
Be kind. Love others. Exude empathy. It does not cost anything to let others know they are seen, loved, and accepted for who they are.
***
Note: Hemophilia News Today is strictly a news and information website about the disease. It does not provide medical advice, diagnosis, or treatment. This content is not intended to be a substitute for professional medical advice, diagnosis, or treatment. Always seek the advice of your physician or another qualified health provider with any questions you may have regarding a medical condition. Never disregard professional medical advice or delay in seeking it because of something you have read on this website. The opinions expressed in this column are not those of Hemophilia News Today or its parent company, BioNews, and are intended to spark discussion about issues pertaining to hemophilia.