Normal in My World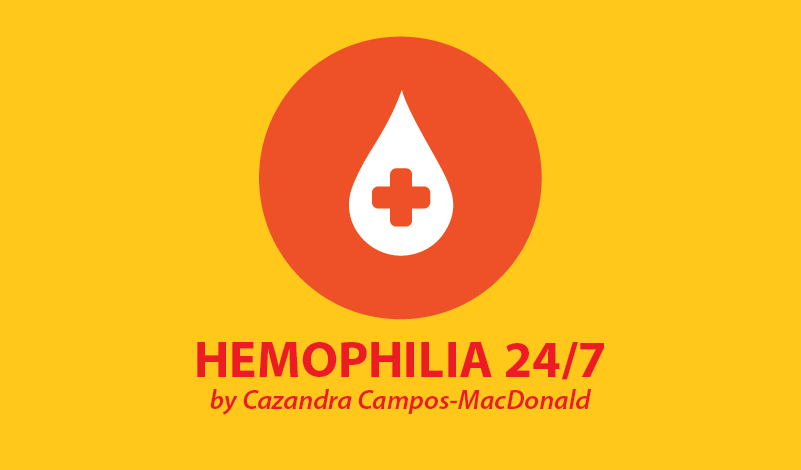 Normal. I'm not exactly sure if I know the definition of normal. I'm thinking that most normal people would probably not suffer from any kind of illness. No allergies, diabetes, pain or infusions would be part of a normal person's life.
When you live with a chronic condition, you are automatically not in the normal category, according to most. But if doing regular infusions, taking medications or checking your blood sugar take place on a regular basis in your home, isn't that normal for you?
My oldest son, Julian, self-infuses. He has since he was about 10 years old. Seeing him put on a tourniquet and use his non-dominant hand to guide a needle into a vein of his arm is astounding to me. He doesn't think twice about it. It's his normal. My mighty warrior Caeleb is infused daily through his port. We go through the same sterile technique as we prepare for each infusion: wipe his port with Betadine, stick the Huber needle into his port, and push his flushes and factor. It's like brushing your teeth. It's something you do every day without much thought. It's our normal.
When I have attempted to infuse Caeleb peripherally, like his brother, and when I am able to find a vein and infuse on the first try, I want to jump up and down and celebrate. This is what I get excited about: finding veins! When your child goes for a month without a bleed, you celebrate! When you get lab results back and the numbers are better, you celebrate! When your child goes to hemophilia camp for the first time and manages to go the entire week without an incident, you celebrate! There are events and milestones that people with a bleeding disorder find tremendous joy in, and which the normal population of the world would never begin to understand.
Normal is a state of mind. There aren't any rules or regulations that make up the idea of what it means to be normal, so we have full license to adapt to our world, however it comes at us and develop our version of what normal is in our homes. Needles and factor are pretty scary to the average person on the street who does not understand chronic illness. And when people tell me, "I just couldn't do it, Cazandra. I could never stick a needle into my child." When you are not given a choice, and learning to access a vein in your child is the only way to manage the hemophilia, you do what you must do. No questions or second thoughts.
Usual, average, typical and expected are words associated with the definition of normal. I prefer exceptional, outstanding, uncharacteristic and surprising. That is how I define my life raising two sons with hemophilia. My world of normal is exceptional because my two sons have defied the odds of the many challenges they have faced with hemophilia.
It's an outstanding life I lead because I am always prepared for the unexpected, which usually includes some surprising challenges that keep me on my toes. As for uncharacteristic, with inhibitors, an allergy to factor VIII and numerous ports, the journey I am traveling with hemophilia is not characteristic by any means.
I wouldn't have it any other way.
***
Note: Hemophilia News Today is strictly a news and information website about the disease. It does not provide medical advice, diagnosis or treatment. This content is not intended to be a substitute for professional medical advice, diagnosis, or treatment. Always seek the advice of your physician or another qualified health provider with any questions you may have regarding a medical condition. Never disregard professional medical advice or delay in seeking it because of something you have read on this website. The opinions expressed in this column are not those of Hemophilia News Today or its parent company, BioNews Services, and are intended to spark discussion about issues pertaining to hemophilia.