Finding Joy and Giving Thanks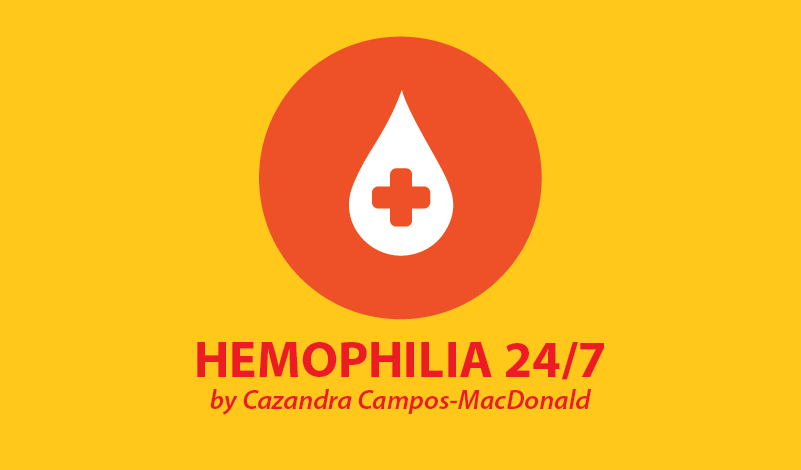 When you live with a bleeding disorder, life can sometimes seem to be nothing but chaos. Just as one bleed seems to heal, another one begins. You start to infuse a factor at closer intervals, and before you know it, you are setting your alarm for factor dosing every four hours — or even every two.
And the pain! Over-the-counter medications don't seem to bring relief, and you must switch to prescribed medications. Monitoring prescriptions can be very stressful with the fear that you will take too much too soon, and you can't seem to get ahead of the pain. Rest, ice, compression, and elevation are your friends, but not enough ice in the world can numb a throbbing joint.
You try your hardest to treat the bleed at home, but when the pain is off the charts and the bleed is out of control, you end up waving the white flag of surrender, calling the Hemophilia Treatment Center (HTC), and heading to the hospital.
This is a common scenario for many people living with hemophilia. The word chaos seems to fit the description well. When you live with a bleeding disorder 24/7, life can be stressful. Not only are you dealing with a bleed for the affected person, but also you have to rearrange life for the family. Siblings need to stay on track with school and activities, parents need to work, and commitments and responsibilities do not wait for a bleed to resolve. Living in crisis mode is just part of living with a bleeding disorder, and if you are not careful, all of the joy in your life can be nonexistent.
How do we find joy when a chronic condition is at its worst?
When I try to find these big illusions of joy, I often fall short. So, I've learned to look for the smallest of things and give thanks. Appreciating some of the seemingly insignificant things that we take for granted can give us new perspective.
When you are in the hospital keeping vigil and you haven't eaten for hours, peanut butter and crackers in the middle of the night are a welcomed item of gratitude. When your son's appetite is gone and you find the last little carton of chocolate ice cream in the hospital refrigerator, you give thanks.
When my son is having a bleed and things are under control, I find immense joy in the fact that we managed to stay home instead of needing to be admitted to the hospital. I give thanks for the bright pillowcases made by wonderful churchwomen that elevated my son's painfully swollen knee. I even give thanks in having hundreds of television shows and games available to entertain us as we watch and wait for the bleed to resolve.
Joy is an amazing feeling. It's hearing a baby giggle uncontrollably and seeing the swelling of a painful knee go down. It's a feeling that everyone can experience, but sometimes we must look for those moments harder than people who don't live with a chronic illness.
Being grateful can change your life, and when it leads to joy, the worst of situations can be bearable. It's an attitude of gratitude that counts.
***
Note: Hemophilia News Today is strictly a news and information website about the disease. It does not provide medical advice, diagnosis, or treatment. This content is not intended to be a substitute for professional medical advice, diagnosis, or treatment. Always seek the advice of your physician or other qualified health provider with any questions you may have regarding a medical condition. Never disregard professional medical advice or delay in seeking it because of something you have read on this website. The opinions expressed in this column are not those of Hemophilia News Today, or its parent company, BioNews Services, and are intended to spark discussion about issues pertaining to spinal muscular atrophy.