Bullies, the Bus, and Warriors: Reminders of Magnificence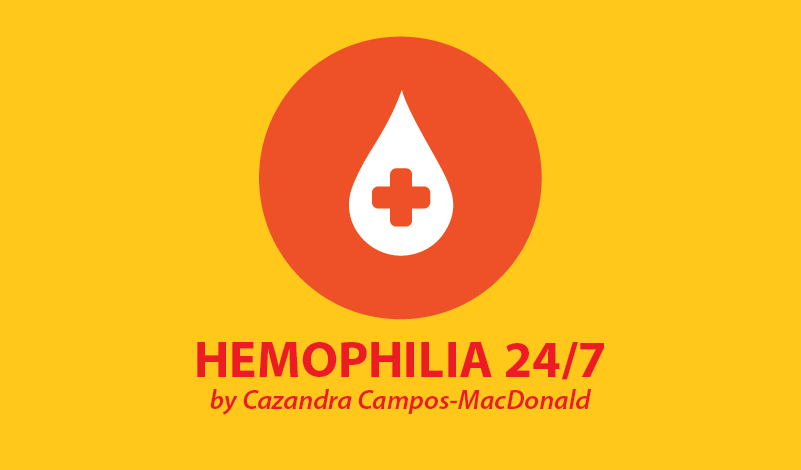 It amazes me how people with a bleeding disorder just go with the flow, living their lives and accepting their routines as normal. They forget that what they do on a regular basis is nothing short of phenomenal.
A little boy self-infusing is an amazing sight to see. Using a non-dominant hand to access a vein is not a skill that many need to have. Or having a port accessed daily. (Have you seen a Huber needle?)
Being limited physically, sitting on the sidelines, missing out on activities and trips because of a bleed, and feeling alone are part of being normal in the world of a bleeding disorder.
Fortunately, many people live their lives seemingly untouched by their bleeding disorders. But some who live with inhibitors, like my 11-year-old son Caeleb, have a life filled with obstacles. Regardless of the bleeding disorder's severity or how it affects the body, these individuals have something in common: They don't realize they are extraordinary.
My mighty warrior Caeleb had a run-in with bullies on the school bus last week. An eighth-grade boy slapped him. I almost went out of my mind. We went to the school, filed a report, called the bus barn, and did everything we needed to do. But something broke my heart.
Caeleb told me that he was called names, and the bullies made fun of his MedicAlert bracelet. That is what really made me crazy. My son was doing the right thing by taking charge of his health, but mean kids attacked him without knowing a thing about him. It was ignorance at its finest.
These bullies had no idea what my son has been through: hospitals, wheelchairs, bleeds, and pain like they could never begin to imagine. "Who did they think they were?" I asked.
I looked at my son with his head hanging down, grabbed his face, and told him: "You are the strongest person I know. Those bullies don't know anything about you. Caeleb, you are my mighty warrior, and you are so much more than any names they can call you."
My voice was trembling, my hands were shaking, and Caeleb's eyes welled up with tears. I just wanted to take his sadness away. I was so angry and overwhelmed, not only because of this horrible act toward my son, but also because I realized that Caeleb didn't know how amazing he is, and that he is stronger than the average Joe walking the halls of his school.
There's great truth to the saying, "Be kind. Everyone you meet is fighting a battle you know nothing about." I know kids don't get that piece of wisdom, but the ones who have a chronic illness understand it all too well.
They are the ones whose lives are examples of strength and courage. They grow up to be kind, caring, and compassionate men and women — because they have dealt with a life that those of us without a bleeding disorder can never completely understand.
We walk among these mighty warriors who love video games and peanut butter sandwiches, who "smell" like little boys, and giggle when the tickle monsters come out to play. We help them find their way through a world of happiness and hope, as well as pain and sorrow.
And if we are lucky, we get to remind them of their magnificence.
***
Note: Hemophilia News Today is strictly a news and information website about the disease. It does not provide medical advice, diagnosis, or treatment. This content is not intended to be a substitute for professional medical advice, diagnosis, or treatment. Always seek the advice of your physician or other qualified health provider with any questions you may have regarding a medical condition. Never disregard professional medical advice or delay in seeking it because of something you have read on this website. The opinions expressed in this column are not those of Hemophilia News Today or its parent company, BioNews Services, and are intended to spark discussion about issues pertaining to hemophilia.