Inhibitors and Blood Work: No Fear of Numbers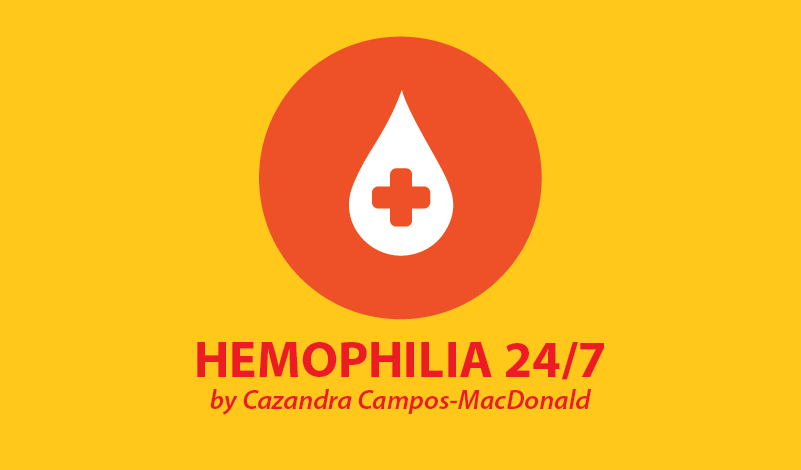 Routine blood draws are a necessity when you have an active inhibitor. I try to get Caeleb's lab work done at least every two months, and the results will give us his Bethesda unit (BU) and half-life status. Having a zero BU is ideal but that alone does not constitute a tolerized inhibitor. The half-life (the time it takes for half of the clotting factor to disappear) needs to be at least six hours to consider as that.
Caeleb has lived with his inhibitor for over 10 years. His BU has gotten to zero a few times, but his half-life has never been above four hours. This basically tells us that despite a zero reading, the inhibitor is floating around and keeping his factor from working the way it should. His recent lab work came in last week and his BU is zero, with a five-hour half-life. Silence. This is the best his results have ever been. You would have thought that I would have been jumping up and down at the news, but I am not putting a lot of stock into the results … yet.
We have been living for over two years with daily Immune Tolerance (IT) and life has been great. No bleeds to report. It's not broke, so there is no reason to fix his treatment, right? Yes, the cost of the factor is high and infusing twice a normal dose daily instead of half that dose three times a week would be considerably less expensive, but my son's health is the best it has been in many, many years.  I've dreamed of Caeleb living the life of a "tolerized" individual, but it has always seemed so far away that I've never let myself focus on a life of having "just" hemophilia.
When you live with an inhibitor, it is very easy to get wrapped up in the numbers, waiting for "zero." Over the past few years I have come to understand the importance of focusing on my son's quality of life and not his lab results. When I finally accepted that line of thinking, everything changed for me.
No longer was I waiting by the phone for the clinic to call with the results. No longer was I losing sleep and living in stress at the thought of "what if" the numbers don't go down; and when they went up, experiencing the devastation that things were not better. Now I was enjoying life watching my son walk and run, not using a wheelchair or walker and not missing field trips.
Despite an active inhibitor, Caeleb's life has changed and he has gained control of his hemophilia for the first time in more years than I can remember. Is his inhibitor still active? Yes. Is he living a life that is free of bleeds? Yes. Did I ever imagine his life would be this good with an inhibitor? No. Am I grateful? Absolutely.
I would love for Caeleb's inhibitor to be tolerized, and I have hope that one day it will be gone. But for now, I am focusing on the fact that my son in living an active, healthy life.
I refuse to live in fear over the things I cannot control.
***
Note: Hemophilia News Today is strictly a news and information website about the disease. It does not provide medical advice, diagnosis or treatment. This content is not intended to be a substitute for professional medical advice, diagnosis, or treatment. Always seek the advice of your physician or another qualified health provider with any questions you may have regarding a medical condition. Never disregard professional medical advice or delay in seeking it because of something you have read on this website. The opinions expressed in this column are not those of Hemophilia News Today or its parent company, BioNews Services, and are intended to spark discussion about issues pertaining to hemophilia.