Memories of My Son's Hospitalizations Are a Matter of Perspective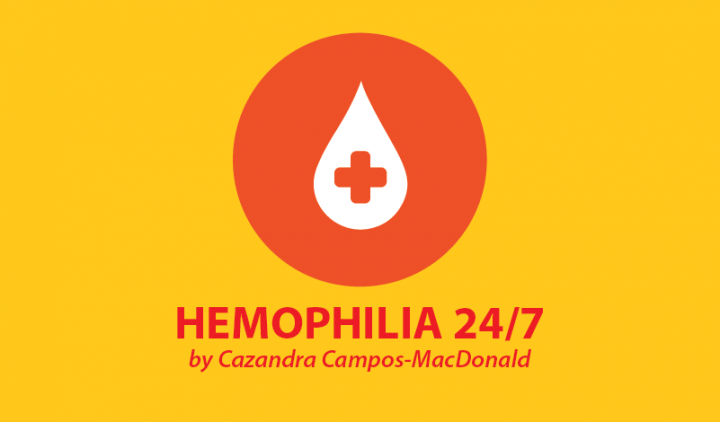 I have guaranteed quality time with my youngest son, Caeleb, who is 15 and has hemophilia, every Sunday morning. He comes with me to the church where I serve as pastor, and he video records the service each week. Our commute is 40 minutes one way, and in that time we talk nonstop. Sometimes we laugh until our sides hurt, and other times we discuss eye-opening topics.
I am still not sure how Caeleb and I began talking about this, but we started sharing memories of his hospitalizations from years ago. Whenever Caeleb was admitted, it was a sure bet that a "special delivery" would arrive.
During one Halloween in the hospital, the "Great Pumpkin" delivered a Ninjago Lego set to Caeleb. An elf made deliveries during Christmas, the "Valentine Fairy" came in February, and the list goes on. Caeleb's hospital room had get-well cards on the wall from family and friends. Window clings adorned his window, and seasonal decorations covered the space.
Caeleb turned to me and said, "It's funny, but I have great memories from the hospital. I shouldn't because it was awful, but it was really good."
I had to choke back my tears.
Many of the worst days in the history of my family revolve around hemophilia and the hospital. My husband and I would take turns at the hospital each day, waiting to see if Caeleb improved enough to go home. Our oldest son, Julian, was often alone, waiting on either my husband or me to return home and often turn right back around. And my sweet Caeleb was in tremendous pain. The days, weeks, and months in the hospital were not ones I would choose to relive.
When my son was in the hospital or at home on the sofa for days at a time, I did everything I could to ease my son's pain. Decorating his room, having unique pillowcases, and bringing his favorite toys and little comforts from home were a few of the ways I could help him and myself.
If I could take away my son's pain, I would do anything! Instead of getting angry, I decided to make the most of every moment. I am grateful for the moments that I did not give up. Yet there were moments when I was empty. I had no desire to bring the outside world into Caeleb's hospital room. I wanted to shut the door and cry, but my determination to help my son outweighed my desire to do so.
Caeleb sees the worst days of his bleeding disorder as happy ones, and that is unbelievable. Perhaps my son does not remember the trauma and pain. If all he remembers makes him smile, then that is all that matters.
***
Note: Hemophilia News Today is strictly a news and information website about the disease. It does not provide medical advice, diagnosis, or treatment. This content is not intended to be a substitute for professional medical advice, diagnosis, or treatment. Always seek the advice of your physician or another qualified health provider with any questions you may have regarding a medical condition. Never disregard professional medical advice or delay in seeking it because of something you have read on this website. The opinions expressed in this column are not those of Hemophilia News Today or its parent company, BioNews, and are intended to spark discussion about issues pertaining to hemophilia.