A Port Removal and New Beginnings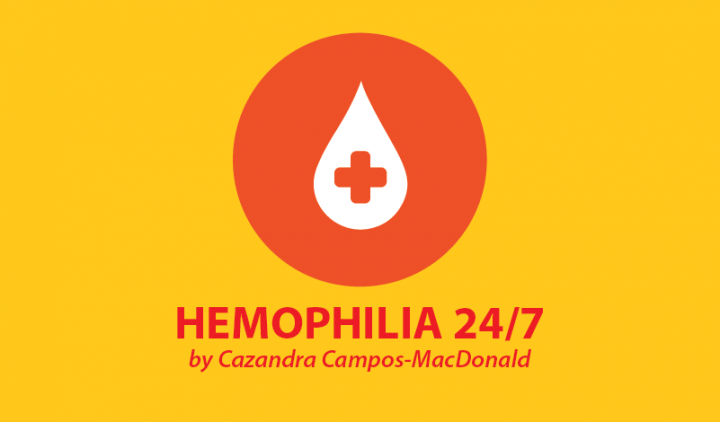 Friday is a big day. My husband and I will take Caeleb to the Hemophilia Treatment Center for bloodwork. If all looks well, we may discuss removing his port-a-cath.
Not replaced. Removed.
It's not that his veins are fantastic, but Hemlibra (emicizumab-kxwh) is doing what it is supposed to do. I think his bloodwork will look great.
Most of us don't prioritize immediate venous access. If we need blood drawn, we go to the lab. Hopefully, the phlebotomist finds a vein and gets the blood, and then you are on your way. Some of us have a more difficult time. As this is Caeleb's seventh port, the thought of not having immediate venous access is a little nerve-wracking.
Over the years, he has had issue after issue with his ports. One decided to leave his body, another cracked, and one felt like Rice Krispies when I flushed. His body just did not accept ports well, and the times in between having ports was very scary. It's an emergency when your child needs factor immediately, there are no veins to be found, and the port is not working — everyone's stress level spikes.
Caeleb has had ports for 12 years. Not having a port was never a consideration — it was a necessity. Now we may have No. 7 removed without one to go in its place. The game has changed. Don't get me wrong: I am very happy about this, but when what you have known for so many years is no longer, an odd loss comes into the picture.
At this time in the world of hemophilia, many little boys and girls may never need ports the way so many older children have needed them. Now, many children with hemophilia have never experienced debilitating joint bleeds, and as long as they treat according to their physician's orders, they may never suffer them. It's a great time for our bleeding disorder community.
I must make sure that as a mom and caregiver I don't get stuck in the thinking of "how it used to be." I want to live in the joy of the newness and freedom of how a new treatment can change my son's life. The beauty of this is that our entire family has a new lease on life without hemophilia at the center of attention.
When you know how to do things one way, change is hard, even if it's for the better. I refuse to let fear of the unknown get the best of me. Is this treatment the answer to Caeleb's hemophilia? It is for now. I don't know what will happen years from now, but I am so glad that our hematologist took her time watching how Hemlibra was received among her patients. She came to us when she believed it was time for Caeleb to give it a try, and I am so thankful that we listened to her.
You just never know when the best thing to ever happen to you will actually happen.
***
Note: Hemophilia News Today is strictly a news and information website about the disease. It does not provide medical advice, diagnosis, or treatment. This content is not intended to be a substitute for professional medical advice, diagnosis, or treatment. Always seek the advice of your physician or another qualified health provider with any questions you may have regarding a medical condition. Never disregard professional medical advice or delay in seeking it because of something you have read on this website. The opinions expressed in this column are not those of Hemophilia News Today or its parent company, BioNews Services, and are intended to spark discussion about issues pertaining to hemophilia.