3 Little Words that Remind Me of the Presence of My PTSD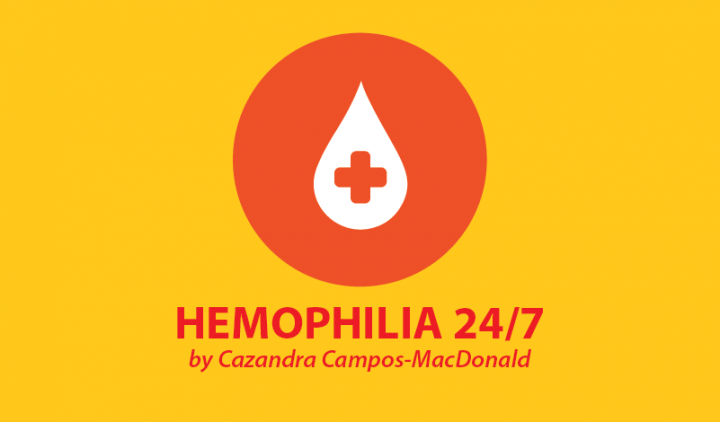 My 13-year-old son Caeleb, who had severe hemophilia A and an inhibitor, has not had a bleed in five years. For three of those years, he received a daily infusion with a plasma-derived product, and for the past two years, he has been on a treatment that he currently injects once every two weeks.
However, following a recent trip to a trampoline park — which was cleared by his hematologist — something has not been right. He has been complaining of pain in his two target joints: his right knee and his right ankle.
When Caeleb says, "My knee hurts," I find that I've been dismissing his pain. I respond with, "It's OK, let's take some Tylenol," and move on with my day, hoping that he won't have additional complaints. I am trying to avoid the possibility that something might need to be done to address Caeleb's pain. As I wait for his MRI to be scheduled, I think about the various scenarios that might play out. I feel panicked. Will he need a synovectomy? If so, how soon do we need to move forward? Will he miss school?
Anxiety creeps into my soul, reminding me of the bad years — regular doses of heavy-duty pain medications, hospital stays that increased with each admission, and Caeleb having the ability to walk taken from him. When Caeleb tells me about his pain, I experience flashbacks to those days and relive each moment as if it were yesterday.
The memories and intense emotions that return at the words, "My knee hurts," signify the presence of post-traumatic stress disorder (PTSD) in my life. PTSD is a condition usually associated with military personnel — those brave individuals who have been through wars and have witnessed unspeakable horrors. However, I have realized that the stress of being with a loved one and having no control over their well-being can lead to PTSD.
A parent is overwhelmed with a sense of helplessness when their child is in excruciating pain for hours on end, and they are unable to do anything to alleviate the suffering. Their heart breaks while watching their child sit on the sidelines, unable to play because of a swollen elbow. Walking into the hospital, the smell of disinfectant and food aromas from the cafeteria greet them, letting them know that their life has shifted into a different gear, with hemophilia at the center. Hearing the words, "My knee hurts," transports me back to those moments when hemophilia took so much from my family.
Fortunately, I am aware of the power of PTSD. I refuse to let it get the best of me. With each reminder that hemophilia is still a part of my life, I will remember what has happened, acknowledge it, and pray that what is yet to come will not be as traumatic as what has gone before.
If you or someone you know has PTSD, contact a social worker at your Hemophilia Treatment Center, or visit the PTSD Foundation of America.
***
Note: Hemophilia News Today is strictly a news and information website about the disease. It does not provide medical advice, diagnosis, or treatment. This content is not intended to be a substitute for professional medical advice, diagnosis, or treatment. Always seek the advice of your physician or another qualified health provider with any questions you may have regarding a medical condition. Never disregard professional medical advice or delay in seeking it because of something you have read on this website. The opinions expressed in this column are not those of Hemophilia News Today or its parent company, BioNews Services, and are intended to spark discussion about issues pertaining to hemophilia.