My Son Progressed from Severe Hemophilia to Mild, and I'll Take It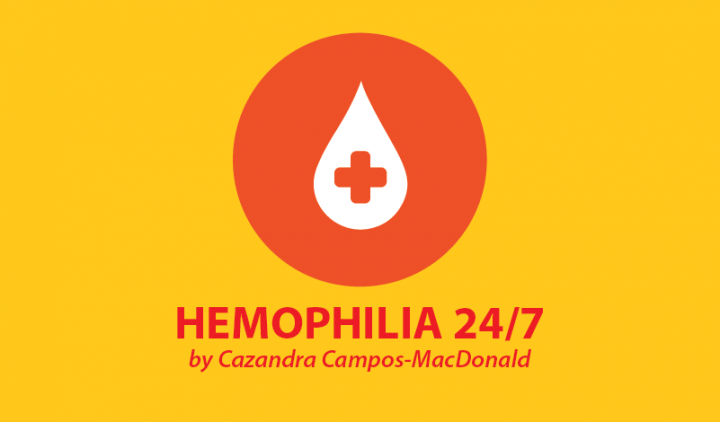 My mighty warrior Caeleb is about to start a new chapter in his life with hemophilia; it's one I never imagined I'd see.
About nine months ago, Caeleb began a new treatment with a medication that has been taking the bleeding disorder world by storm. Hemlibra (emicizumab-kxwh) is an injectable rather than an infusible therapy, and the initial dosage is once weekly. Now, months later, the effect on my son's health still feels surreal.
Caeleb's hematologist recently asked us to come in for a checkup. We had little bruising and no bleeds to report. And because he has been doing so well, the doctor gave Caeleb the option of switching to a monthly injection.
Once. A. Month. Mind-blowing.
It is 2019. My son who has suffered tremendously with severe hemophilia is being given the choice of a monthly dose of medicine to keep his bleeding under control. He is on his seventh port-a-cath. He was in a wheelchair for over a year and his high titer inhibitor almost got the best of him and our family. But somehow, we prevailed. Memories of life before Hemlibra seem so distant, yet close enough to touch. We lived through the worst of the worst, and now we are experiencing something we can hardly comprehend.
At the appointment, as the nurse drew blood for lab work, memories of holding down my mighty warrior so that a team of nurses could access his port came rushing back to me. Days of spending hours icing his swollen knee and ankle every 20 minutes while infusing every two hours around the clock seem like a bad dream. Accessing his "Annie," or antecubital fossa, in the crevice of his elbow, was once completely out of the question. But now, following the success of this blood draw, we've started the process of scheduling his port removal surgery.
I am not so naive to believe we have conquered hemophilia. However, when Caeleb's doctor told us about this new therapy that was transforming severe diagnoses into mild ones, I felt that a huge part of our battle was won.
Will I continue to worry about my son? Of course. Do I think this medication has eradicated his hemophilia? Absolutely not. But I am finding a new way of life with him. He is taking a few more risks and trying new things that he previously couldn't consider.
I'll take it. I'll continue to give thanks and practice gratitude for what we have at this moment.
The future is brighter than I had ever dreamed it would be for my mighty son.
***
Note: Hemophilia News Today is strictly a news and information website about the disease. It does not provide medical advice, diagnosis, or treatment. This content is not intended to be a substitute for professional medical advice, diagnosis, or treatment. Always seek the advice of your physician or another qualified health provider with any questions you may have regarding a medical condition. Never disregard professional medical advice or delay in seeking it because of something you have read on this website. The opinions expressed in this column are not those of Hemophilia News Today or its parent company, BioNews Services, and are intended to spark discussion about issues pertaining to hemophilia.