Talking to My Son About Chronic Pain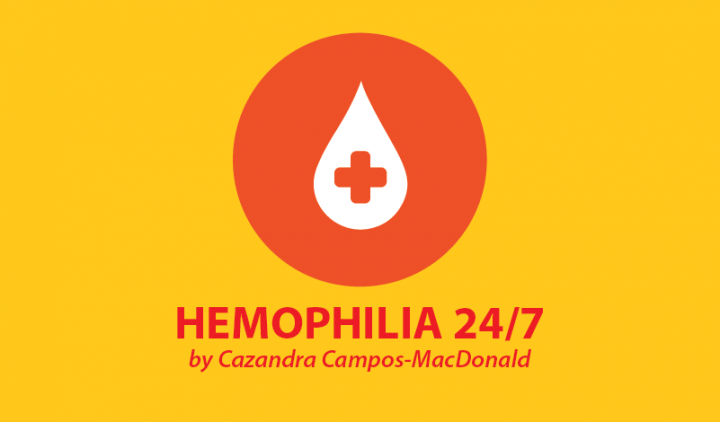 I've been living with chronic pain for several years. When I'm asked whether I had an accident or trauma to my neck and back, my answer is no. But I think hemophilia indirectly triggered my pain.
Years ago, when my youngest son, Caeleb, was in a wheelchair, I think the daily task of loading and unloading his wheelchair into the car was the trauma that marked the beginning of my pain. Scooping my son up out of his bed, helping him to the bathroom, and bathing were part of our daily routine. And that routine did quite a bit of damage to my physical health. It's not that I am blaming hemophilia, but caring for my son hurt me physically.
After my second neck surgery in December, I began to feel some relief. But this past week, I realized that although I was getting better, the pain would be with me for the rest of my life. I must figure out how to adjust to this reality so that I can focus on doing the things that make me happy while exercising caution.
Caeleb and I have chronic pain in common. His issues have been significant over the past year, and I am trying to find ways to help him understand and cope with his pain. But it's difficult. How do you tell a 14-year-old boy that he must live with his pain and that it is unlikely to go away soon? As my previous week was thrown off schedule with a canceled trip due to my condition, I thought it would be a good time to try to relate my pain to Caeleb's. I want him to know that I understand his challenges and that I'm not ignoring him.
We talked about the presence of pain, about the persistent reminder that something in our body was hurting. Fortunately, our pain levels don't always keep us from functioning. I told Caeleb that it is important for us to acknowledge the pain so that we can keep it under control as best we can. And I remind him (I'm trying not to nag) to keep up with his physical therapy exercises. I want him to understand that his therapy is one way to keep his pain under control so that he can keep moving forward.
We shared how sometimes our pain is so intense that it doesn't just stop us from having fun, it prevents us from walking. At those times it's not easy to maintain a healthy perspective.
I'm unsure if I am saying the right things, but one thing I know for certain: I will keep the conversation going with my son. If I can keep the lines of communication open with him, I hope he will come to me when he feels as if he is at his wits' end.
Pain is real though it's often invisible. We don't always understand what a person is going through because we can't see it. Be compassionate, ask questions, and show your love for others. Sometimes that's exactly what someone needs when they are in pain.
***
Note: Hemophilia News Today is strictly a news and information website about the disease. It does not provide medical advice, diagnosis, or treatment. This content is not intended to be a substitute for professional medical advice, diagnosis, or treatment. Always seek the advice of your physician or another qualified health provider with any questions you may have regarding a medical condition. Never disregard professional medical advice or delay in seeking it because of something you have read on this website. The opinions expressed in this column are not those of Hemophilia News Today or its parent company, BioNews Services, and are intended to spark discussion about issues pertaining to hemophilia.