Stories and the Sacred: I Wouldn't Change a Thing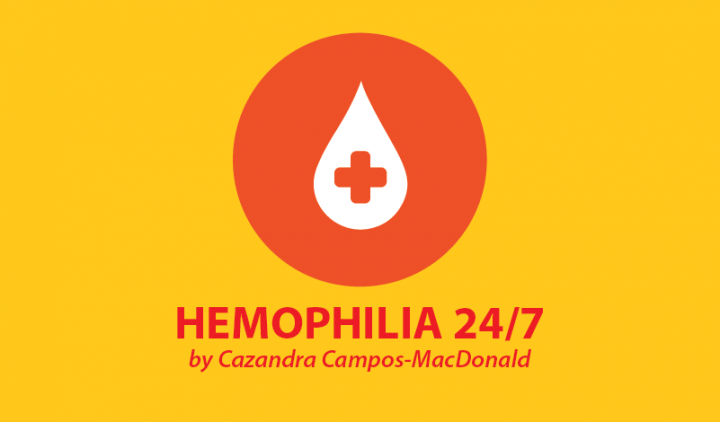 My mighty warrior Caeleb is 12 years old and officially an inch taller than me. Every day he stands next to me, checking to see if that inch has stretched. I watch him from my office window, playing with his friends on the street; amazingly, he is turning into a young man. It is bittersweet to see my last child moving into a new era.
I watch him playing basketball and running down the street while playing tag and I can't help but remember the little boy who couldn't walk because his knee and ankle would not stop bleeding. He no longer relies on me as he did a few years ago, not simply because he is older but because he is more self-sufficient and healthier.
When I watch him walking to and from school, I stop for a moment to think about the long, painful nights in the hospital. Those nights filled with pain. Those nights that seemed to never end. No amount of morphine could give him relief. The constant icing and elevating of his leg had me watching the clock to change ice and positions every 20 minutes. Helping him scoot to the edge of the bed to use the urinal was excruciating for him, but we managed. But there are some sweet memories that I will never forget.
When he was maxed out on pain medication, crying in pain, it was my mission to find something that would distract him from his red, blood-swollen joint. I would lie in his hospital bed, usually half of me, to avoid touching his leg, and tell him stories. His favorite ones were about my horseback rides. The best characters were Kelsey the Horse, Hero the Dog, and all the coyotes and animals I encountered on the trail with my friend. I knew the stories worked when he would start to ask questions. "Did Hero catch the bun-bun?" "Did the mama coyote have any pups?" Our minds traveled to places that only a good horse could take us. If lucky, he would eventually fall asleep.
I will never have those moments with my son again. Of course, I don't mean that I want him to suffer from bleeds, but those moments that only he and I experienced, using our imaginations to travel across the hills and arroyos in New Mexico, will always be special.
My son is growing up. He's been bleed-free since February 2014, which I never dreamed would be possible. Those years in the hospital are distant memories. I would prefer to leave them in the past, but some of those memories are special, sacred. I wouldn't trade the journey for anything. If this path for my sons has made them the very special, uniquely amazing people they are, then it has been worth every struggle, every fight, and every story.
***
Note: Hemophilia News Today is strictly a news and information website about the disease. It does not provide medical advice, diagnosis, or treatment. This content is not intended to be a substitute for professional medical advice, diagnosis, or treatment. Always seek the advice of your physician or another qualified health provider with any questions you may have regarding a medical condition. Never disregard professional medical advice or delay in seeking it because of something you have read on this website. The opinions expressed in this column are not those of Hemophilia News Today or its parent company, BioNews Services, and are intended to spark discussion about issues pertaining to hemophilia.