My Son's Port Removal Awakened the Terror of PTSD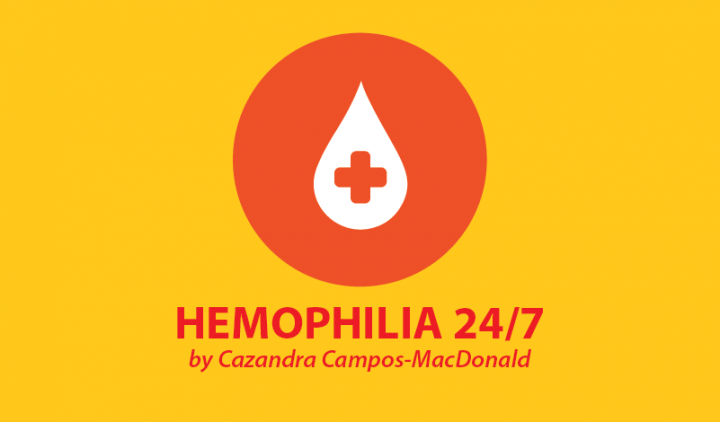 It's easy to distance yourself from the issues of a bleeding disorder when everything is going well. My youngest son, Caeleb, has not been in the hospital for an overnight stay in several years, and the pain he would endure from repeated bleeds is a distant memory. He recently had his port removed, and I thought it would be a routine procedure. But it wasn't.
The minute I walked into the hospital, memories of previous visits came flooding back to my mind. My heart began to race, and I started to get a little nervous, but I could not let my son feel my anxiety. As he was in the pre-op room changing into a hospital gown and getting his medical band, the anesthesiologist came in to talk about the procedure. She asked if giving Caeleb an oral medication would be enough to get him into the operating room, or if it would be best to start the IV before going back to surgery. We talked to Caeleb and agreed an oral dose of Versed (midazolam) would be fine. It wasn't.
As Caeleb was being rolled away to the operating room, he began to relax, so I thought all would be well. After surgery, the anesthesiologist came in with her eyes wide open to speak with me and my husband. She told us that getting Caeleb to cooperate to have an IV inserted was a nightmare. He had to be restrained, and she was visibly shaken. We then had to work to wake Caeleb from the anesthesia so that he could be discharged. It was harder than I expected.
Caeleb was extremely agitated and emotional. The nurse told us it was normal for boys his age to react this way, but I could see the fear in his eyes. I remembered it too well, like a bully from middle school you run into years later. I realized at that moment that my son's post-traumatic stress disorder (PTSD) was alive and well. It is another part of his hemophilia journey that seems to be distant, but the impending IV took my Caeleb back to those years when accessing his port took a team of people to hold him down. The lights in the operating room, the smells, the masks — it didn't take much to launch my son back into those days of constant hospital stays and procedures.
PTSD does not only affect soldiers. It is something that many do not understand because it is not in their experience. I used to think PTSD was an excuse until I lived through it with my son. And unfortunately, my husband and I are also victims. We can recognize the signs and understand our anxiety and apprehension when it hits, but it is not a comfortable place to live. So many people live with the effects of PTSD, which are debilitating.
Don't roll your eyes when you hear about someone's struggle. Try to put yourself in their shoes. Hopefully, you will never understand the reality of PTSD in your life. But do your best to be present for those who are.
***
Note: Hemophilia News Today is strictly a news and information website about the disease. It does not provide medical advice, diagnosis, or treatment. This content is not intended to be a substitute for professional medical advice, diagnosis, or treatment. Always seek the advice of your physician or another qualified health provider with any questions you may have regarding a medical condition. Never disregard professional medical advice or delay in seeking it because of something you have read on this website. The opinions expressed in this column are not those of Hemophilia News Today or its parent company, BioNews Services, and are intended to spark discussion about issues pertaining to hemophilia.