My Youngest Son Becomes a Teenager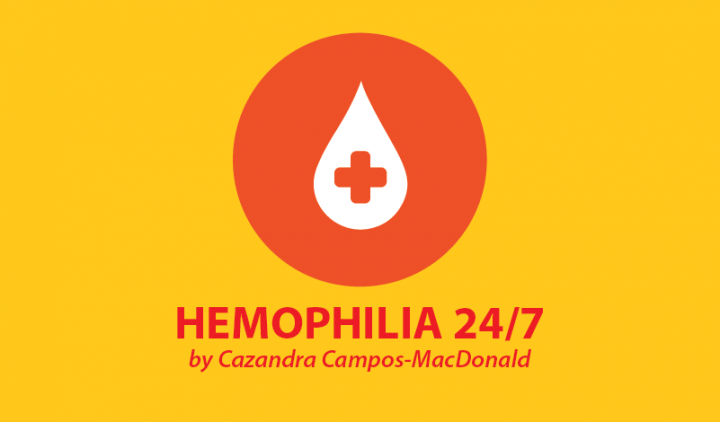 My mighty warrior Caeleb is officially a teenager. His voice is cracking and becoming lower, he eats a lot, and he is growing taller every day. Where did the time go? Sometimes I feel overwhelmed by the passage of time; the older I get, the faster time seems to fly by. On each of my boys' birthdays, I reminisce about their births. My firstborn, Julian, came into the world on June 23, in Houston, Texas, during a power outage. There was no ice, no air conditioning, and the staff was forced to bring in box fans from home to keep the wards cool.
Caeleb's birth in January 2006 was not as dramatic, but it was memorable. My waters broke in the hospital and he arrived sleeping, not screaming as his elder brother had been.
I think back to those early days of my mighty warrior's diagnosis with hemophilia and remember the utter shock and devastation that I felt. While I'd gone through diagnosis with my older son, Caeleb's disorder discovery hit me harder. However, I realize the amazing gift I received as a 38-year-old mother. Caeleb was the baby that I had dreamed of and doctors had told me would not come. I believe there was a grand design in the timing of my youngest son's arrival.
At the time of his birth, I had thought I knew all there was to know about hemophilia from raising a 10-year-old son with the bleeding disorder. However, I soon found out that wasn't the truth. Caeleb's life has been filled with complication after complication. A high titer inhibitor, seven ports, an allergy to factor VII therapy, post-traumatic stress disorder, needle phobia, and hospitalizations too numerous to count; his journey was not something for which I could have ever been prepared. But somehow my husband and I figured it out; we spoke up often and advocated for our son when all hope seemed to be lost.
If Caeleb had not come into my life, who would I be?
What I know for sure is that over the past 13 years I have grown into a woman I'd never dreamed I would become. I am stronger because of Caeleb; his condition pushed me to ask questions and find answers. I never gave up because his health was the most important thing in my life.
I've learned what it's truly like to put another person before myself. Of course, I put Julian first when he was my only child, but there was something completely different about having a child with critical medical needs.
I learned what it was like to be terrified. The night I thought Caeleb would not wake up was filled with an unforgettable fear.
I love more deeply than I'd ever imagined possible. I hadn't believed I could love another child like I did my firstborn. But Caeleb showed me that my love for him is not the same as the one I have for my eldest son; each love is as unique as their personalities. No more, no less, but fierce.
I count my blessings often. I am overwhelmingly grateful for the gift of my two sons and to live this amazing, unpredictable, crazy life that includes hemophilia.
***
Note: Hemophilia News Today is strictly a news and information website about the disease. It does not provide medical advice, diagnosis, or treatment. This content is not intended to be a substitute for professional medical advice, diagnosis, or treatment. Always seek the advice of your physician or another qualified health provider with any questions you may have regarding a medical condition. Never disregard professional medical advice or delay in seeking it because of something you have read on this website. The opinions expressed in this column are not those of Hemophilia News Today or its parent company, BioNews Services, and are intended to spark discussion about issues pertaining to hemophilia.