Holding onto Hope During the Worst Hemophilia Challenges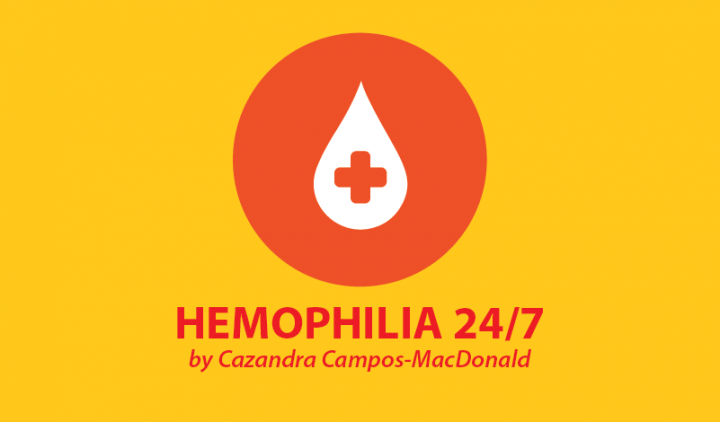 I've been cleaning up my computer files and finding pictures everywhere except where they are supposed to be stored. One photograph caught me by surprise. My mighty warrior, Caeleb, went to a monster truck rally in 2014. He took a great picture with the driver of the monster truck, Toxic. But what stunned me was the color of my son's skin. How did I not see that his complexion was so pale? He was as white as a ghost. His right knee was bent in the photograph, and he couldn't extend it because of the severe pain that would result.
Years later, members of our church told me they had felt bad for Caeleb back then. One woman said, "He was so pale, Cazandra." I thought it was her imagination, but she was right. When your child is sick, you do everything possible to help them get better. The tiniest improvements mean the world, and you often see those changes as bigger milestones than they are at the time. We act as cheerleaders for our children and families to raise everyone's spirits in the hope that better outcomes are on the horizon.
Some would say that we are fooling ourselves and that hope in the midst of despair is not helpful. But I believe that sometimes the only thing we have is hope, a tiny glimmer to hold on to during some of the worst challenges we experience as parents of chronically ill children.
I looked at the picture again and saw something amazing: a little boy who loved monster trucks and braved the January cold in his wheelchair as his dad maneuvered the bumpy track so that our mighty warrior could get a closer look. My son didn't worry about his wheelchair or his knee that day; like the other kids, he was more concerned about getting onto the track to get up close to his favorite trucks. The hope he had for that evening outweighed the constant pain buzzing in his knee. He held onto hope while being pushed over the bumps of the track while keeping his eyes on the prize of seeing the trucks and drivers.
Hope was a good thing that January day. I remember feeling the overwhelming, all-encompassing, suffocating kind of hope that one day my mighty warrior would be pain-free. I hoped that the color would come back to his cheeks and he could run with abandon in the playground.
And here we are, almost five years later, and my hopes and dreams for my mighty son have come true. During the worst times, I have never given up hope.
Hold onto it.
***
Note: Hemophilia News Today is strictly a news and information website about the disease. It does not provide medical advice, diagnosis, or treatment. This content is not intended to be a substitute for professional medical advice, diagnosis, or treatment. Always seek the advice of your physician or another qualified health provider with any questions you may have regarding a medical condition. Never disregard professional medical advice or delay in seeking it because of something you have read on this website. The opinions expressed in this column are not those of Hemophilia News Today or its parent company, BioNews Services, and are intended to spark discussion about issues pertaining to hemophilia.