It's Hard to See My Son Walk with a Cane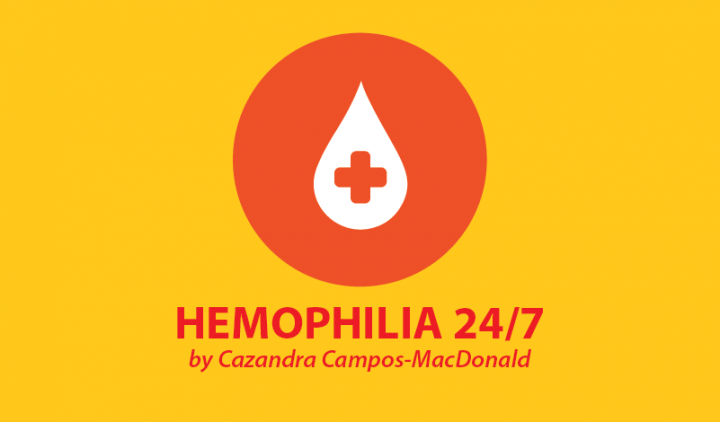 My 14-year-old son Caeleb is having trouble walking. Some days are better than others, but the bad days are filled with crazy pain.
His right knee and ankle have sustained tremendous damage over the years from the joint bleeds that are a complication of hemophilia. His chronic pain has been a significant issue since last summer, and finding ways to alleviate it has been a challenge.
Caeleb uses a single crutch to walk the halls at school, but a crutch is often more cumbersome than helpful. In a moment of desperation, I picked up a cane at the local pharmacy. I immediately thought, "Canes are for the elderly. He won't be able to use this." But I went ahead and bought it, holding on to my receipt and hoping it wouldn't help my son.
When Caeleb arrived home from school, he tried the cane and tore the tag off. "This is so much better!" he exclaimed. I wasn't sure how I felt about my 14-year-old using a cane, but if it helped him then so be it.
The next day, I picked Caeleb up from school. The West Texas wind was blowing hard as the kids darted out. I waited patiently, and my son appeared as the last of the students left the building. He was wearing his coat, hunched over because of the cold wind, and leaning on his cane. He is 5 feet, 8 inches tall and a stout young man. But when I saw him leaning on the cane, limping toward me with the gait of a much older man as students ran around him, I caught my breath.
He looked defeated. He should be the one running, screaming, and dodging the smaller kids, not limping his way to the car. But that is not his reality. He is a victim of joint damage. He endured years of active bleeds that tore up the insides of his joints, and I knew he would have long-lasting effects. I just had no idea they would be so painful.
I don't want my son to be a track star, but I want him to run. I don't need him to dunk a basketball, I just want him to shoot hoops and have fun. I don't want him to miss out, and the truth is that sometimes he does.
It's a season of continued pain that won't last forever. I'm not exactly sure what the future looks like regarding his joint damage, but I know that we have been through some of the worst scenarios that hemophilia and an inhibitor can bring.
I am hopeful that the best is yet to come. I just hope it's sooner rather than later.
***
Note: Hemophilia News Today is strictly a news and information website about the disease. It does not provide medical advice, diagnosis, or treatment. This content is not intended to be a substitute for professional medical advice, diagnosis, or treatment. Always seek the advice of your physician or another qualified health provider with any questions you may have regarding a medical condition. Never disregard professional medical advice or delay in seeking it because of something you have read on this website. The opinions expressed in this column are not those of Hemophilia News Today or its parent company, BioNews Services, and are intended to spark discussion about issues pertaining to hemophilia.