My Son's Trip to a Trampoline Park Is a Triumph Over Hemophilia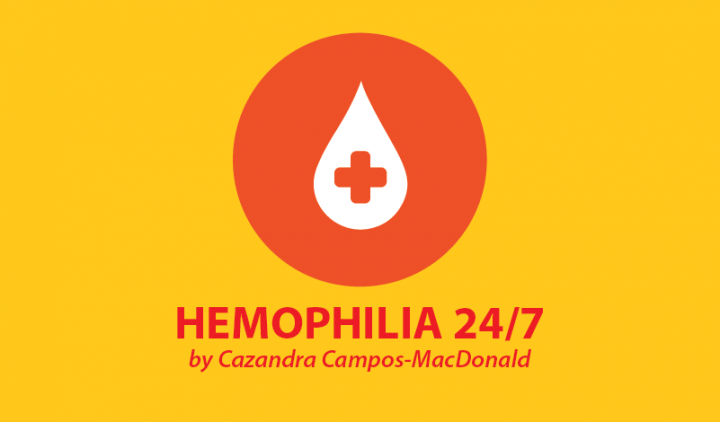 When I was a kid in the 1970s and '80s, I thought children who had trampolines in their yards were amazing. Being invited over to jump on a friend's trampoline was a special treat. Later, as a teacher, I lost track of how many of my students acquired injuries from trampolines. I thought they were unsafe, and hearing about the number of kids who were injured while using them confirmed my opinion.
I never allowed my sons to jump on trampolines. They had severe hemophilia and inhibitors, so it wasn't worth the risk. Jumping was fine; it was the danger that they would hit the outside corners or fall off that worried me. The National Hemophilia Foundation discourages the use of trampolines, rating it as a moderate-to-high-risk activity. These days, public trampoline parks are a common sight, so avoiding this activity is difficult. I didn't have trouble with steering my sons away from trampolines — until now.
My 13-year-old son, Caeleb, recently visited a friend from out-of-town. His friend wanted to take him to the trampoline park. My automatic response was to say "no." But I hesitated. Now that Caeleb is on a new treatment and has had no bleeds, I decided to call our local hemophilia treatment center to ask for advice. I spoke to a nurse there, saying, "Never in a million years did I think I would ask this, but can Caeleb go to the trampoline park?" The nurse laughed and said that the doctor was fine with the idea.
So, my son went to the trampoline park. He jumped and played and had a fantastic time. It did my heart good to see him when he returned beaming like a kid who has played in a carefree way. He participated in an activity just like his friends. When he walked into the trampoline park and put on his socks, he was no longer a little boy with debilitating hemophilia. I can't imagine the sense of freedom that he felt.
However, the day didn't pass without an injury, but a sprained ankle was worth it for Caeleb. He has learned that he needs to get in better physical shape so that jumping and playing will not be painful. Slowly, but surely, he is figuring out his physical limitations. He is now in a place of opportunity beyond what I could have imagined.
As a mother to sons with hemophilia, I have always guided them in their decision-making regarding their bleeding disorder. Helping them to decide which sport or activity would suit them best has not been easy. While it may not sound like huge progress, my son's trampoline park outing has opened up his world a little wider.
***
Note: Hemophilia News Today is strictly a news and information website about the disease. It does not provide medical advice, diagnosis, or treatment. This content is not intended to be a substitute for professional medical advice, diagnosis, or treatment. Always seek the advice of your physician or another qualified health provider with any questions you may have regarding a medical condition. Never disregard professional medical advice or delay in seeking it because of something you have read on this website. The opinions expressed in this column are not those of Hemophilia News Today or its parent company, BioNews Services, and are intended to spark discussion about issues pertaining to hemophilia.